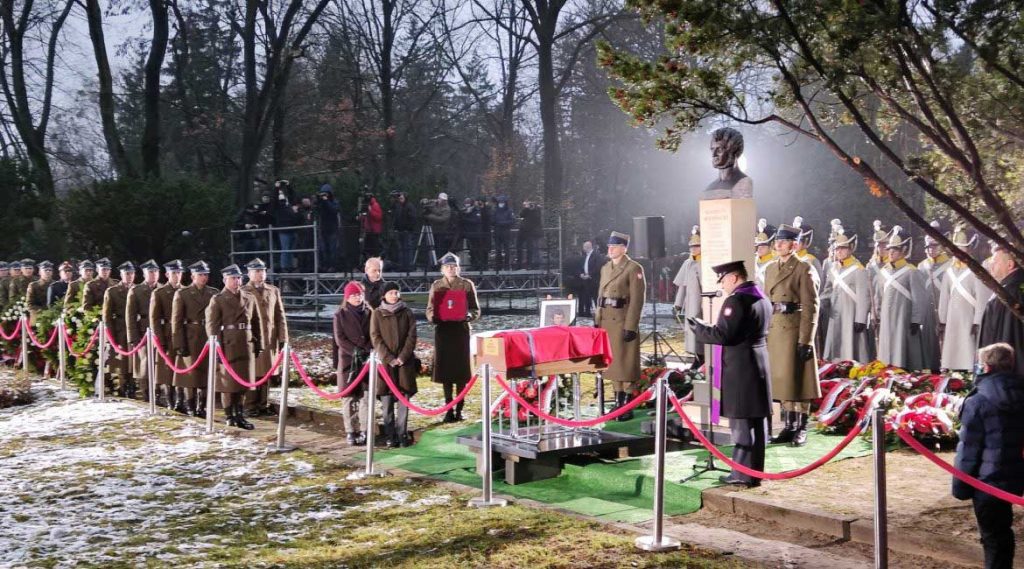 Knight of the Order of Virtuti Militari, November Uprising insurgent and ideologist of the uprising, but also literary critic and pianist. On November 27, 2021 the remains of Maurycy Mochnacki, with due respect, were transferred from France to Poland. On the same day the Hero was buried at the Powązki Military Cemetery in Warsaw.
Maurycy Mochnacki (born in 1803) is one of those people that only marginally function in public space despite their merits. Compared to his contemporaries – Mickiewicz, Chopin or Chłopicki, he was somewhat placed in the second line of Polish Romanticism.
On November 29, 1830 on the Old Town Market Square in Warsaw Maurycy Mochnacki announced the outbreak of November Uprising. He was the member of Piotr Wysocki's conspiracy. He fought in the battle of Olszynka Grochowska, Ostrołęka, Wawer, Okuniew and at Liwiec. After the failure of the Uprising he was sentenced to death by hanging. Maurycy Mochnacki emigrated to France where he was devoted to writing about Poland. "The Insurrection of the Polish Nation in the Years 1830 and 1831" is his last, unfinished work. This historic firsthand account of November Uprising was published for the first time in Paris in 1834.
Maurycy Mochnacki died on December 20, 1834. He was buried in French Auxerre.
Return to Poland
Considering Maurycy Mochnacki's great literary and historical work, Freedom and Democracy Foundation (Fundacja Wolność i Demokracja) put an effort into bringing the Hero back in the hope of reinstating him in public memory.
Most the Most Foundation supported this initiative financially.
Most the Most Foundation supported this initiative financially. Maurycy Mochnacki was a soldier and as a soldier his funeral was military. Military CASA collected his remains from France. He was accompanied by high level Polish government officials during the entire trip.
The ceremony started with receiving the remains at Warsaw Okęcie Airport. Then, they were transferred to the Field Cathedral of Polish Army. During the mass the Prime Minister Mateusz Morawiecki spoke. He started his speech by saying: "Finally Mochnacki returns to Poland. He comes back after 190 years, 187 years since the time he dreamt about it, thought about it".
After the funeral service, the cortege went to Powązki Military Cemetery where Maurycy Mochnacki was buried.
The text was written based on:
https://www.lazienki-krolewskie.pl/pl/historia/postacie-historyczne/maurycy-mochnacki